NATIONAL CHAIR PADDLE OPEN
AND FUNDACIÓN KONECTA – FUNDACIÓN TAMBIÉN SPANISH CUP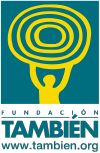 Wheelchair paddle tennis brings enormous physical and psychological benefits to people with disabilities, facilitating social inclusion, which is why Fundación Konecta and Fundación También are joining forces to ensure that it continues to grow in our society.
The National Wheelchair Paddle Open, which brings together Fundación Konecta and Fundación También, aims to promote adapted sport and the social inclusion of people with disabilities. In each edition, sports lovers gather around a top-level event, due to its national character and because it scores for the Spanish Cup. Year after year, it registers an important participation every season.
Last year, the first Konecta Inclusive Trophy was held simultaneously, with the collaboration of Fundación AON España. It was very well received by the players, as its innovative format allows the eight players in wheelchairs to play against up to 14 standing players, volunteers from AON. In addition, Fundación También, a pioneer in this sport, has created the first paddle school in Spain for people with reduced mobility.
Objective: to adapt sport as a means of social inclusion together with the labour integration of people with disabilities, the main objective of Fundación Konecta since its creation.