VOCATIONAL TRAINING SCHOOL OF THE FUNDACIÓN KONECTA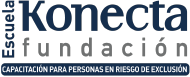 This project was born 7 years ago in Spain with the aim of offering formal training to groups at risk of exclusion and with a clear finality: their incorporation into the labour market.

One of the main objectives of Fundación Konecta is to train and empower people at risk of exclusion, such as women who are victims of gender violence, people with disabilities or the long-term unemployed, among others, and offer them a stable job in Konecta and other companies.
The school provides 390 hours of training in customer services and 40 practical hours. In addition, this training is complemented with specific initiatives ranging from presentations by Konecta's Commercial Promotion and Digital Transformation area, telephone marketing workshops, role plays, visits to work platforms, call analysis with the support of a manager, as well as the resolution of conflicts by listening to real calls.
This initiative, provided through Professional Certificates, meets the demand for more specific profiles in BPO and Customer Relations outsourcing companies, such as Konecta, as well as improving the employability of people at risk of social exclusion, accompanying them throughout the training process and adaptation to the job.
Results: to date, at a global level, more than 600 people in a vulnerable state have been trained through the Fundación Konecta School and 80% of them have been integrated into the labour market.
If you would like to participate in the next edition of the school, please write to escuela@fundacionkonecta.org