FUNDACIÓN KONECTA'S AWARENESS-RAISING INITIATIVES
Fundación Konecta promotes different awareness campaigns thanks to the collaboration with different social entities.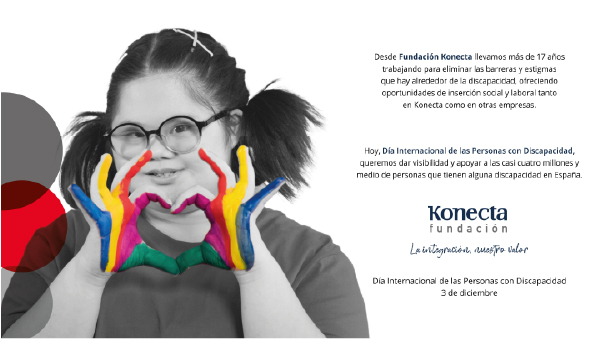 Awareness-raising actions are usually carried out with the aim of informing and encouraging help and support for certain groups.
Therefore, on the occasion of the International Day for Safety and Health at Work, which is celebrated on 28th April, the Foundation seeks to convey the importance of safety in the workplace, in addition to attesting to the progress made in its centres in this field. An initiative with which the organisation demonstrates its commitment to the 2030 Agenda.
Fundación Konecta is also committed to raising awareness of the importance of research and early diagnosis of breast cancer. research and early diagnosis of breast cancer. Through an agreement with the Spanish Association Against Cancer, on 19th October, International Breast Cancer Day, it made its space available for the dissemination and sale of products with the aim of raising awareness and supporting the cause.
Other important dates on which Fundación Konecta always calls on its employees to reflect are 3rd December, International Day of Persons with Disabilities, and 25th November, International Day against Gender Violence.
Objectives: to raise awareness and sensitise the population through initiatives that help to make visible and encourage support for different causes and social entities to which Fundación Konecta is especially committed.